As sound experts, we often delve into the nuances of portable audio devices to guide our audience towards the best audio experiences. Today, we're focusing on a detailed comparison between the JBL Go 3 and the Clip 4, two compact, yet powerful speakers from JBL's impressive lineup. In our analysis, we consider various factors such as sound quality, design, portability, and overall functionality.
Both models have garnered attention for their unique features and affordability, making them popular choices among music enthusiasts. Our goal is to provide an insightful comparison that helps you understand which speaker aligns best with your lifestyle and audio needs, whether you're looking for a travel companion or a reliable audio source for your daily activities.
Table Of Comparison: Key Differences Between JBL Go 3 Vs Clip 4
| | | |
| --- | --- | --- |
| Feature | JBL Go 3 | JBL Clip 4 |
| Image | | |
| Dimensions | 9.7 x 5.3 x 4.1 cm | 10.2 x 7.4 x 4.4 cm |
| Weight | 207 g | 272 g |
| Battery life | Up to 5 hours | Up to 10 hours |
| Water resistance | IP67 | IP67 |
| Bluetooth range | 10 meters | 10 meters |
| Sound output | 4.2W RMS | 5W RMS |
| Extra features | Integrated strap | Integrated carabiner |
| Colors | 10 | 8 |
| Sound signature | Brighter | Warmer |
| Bass response | Slightly weaker | Slightly better |
| Price | ~ $39.95 | ~ $49.95 |
JBL Go 3 Vs Clip 4: In Depth Comparison
Both speakers are equipped with many outstanding features with a compact and flexible design. Below is a comparison of the differences in sound quality, design, highlights, and price of these two speakers:
Sound quality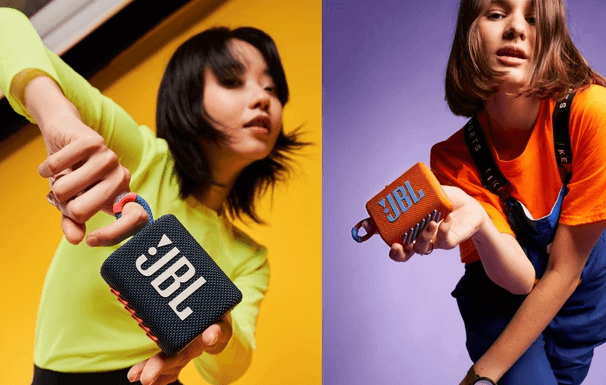 Experts highly appreciate the sound quality of JBL Clip 4 vs Go 3, because JBL takes excellent care of sound quality. For the JBL Go 3 speaker. This speaker is equipped with a high-end driver, helping the speaker to play music with vivid sound and powerful bass. The sound quality is clear and true when Operating in the frequency range from 110 Hz to 20 kHz. In addition, the JBL Go 3 speaker uses JBL Pro Sound audio technology and the feature that allows connecting two or more JBL speakers to enhance your audio experience.
The JBL Clip 4 speaker operates with a frequency response range of 100 Hz to 20 kHz. This speaker can emit the highest sound ranges, combined with an audio filter, to create a clear and steady echo. The speaker possesses treble and bass sounds that combine appropriately, allowing users to enjoy a variety of music genres.
The warm bass of the JBL Clip 4 speaker has sustained at the appropriate volume level, and at the same time, three pleasant sound ranges help create more balanced and stable sounds. If you are choosing a speaker suitable for genres such as light music, bolero music, or lyrical music, this is a highly qualified speaker. Each speaker has good sound quality. However, the JBL Clip 4 speaker is rated higher for sound quality. Depending on your style and preferences, choose the right speaker.
Read more: JBL Charge 4 Vs Charge 5
Battery life
Comparing the battery capacity of JBL Clip 4 vs Go 3 speakers can see the difference. The JBL Clip 4 speaker offers modern technology and is equipped with a battery with a capacity of up to 1000mAh. Therefore, users can use the speaker continuously for up to 10 hours on a single charge. At the same time, the speaker is also equipped with an LED system that displays the remaining battery level for easy monitoring.
The JBL Go 3 speaker can only play music continuously for 5 hours. Although not as excellent as the JBL Clip 4, the speaker must still meet the user's needs.
Durability and waterproof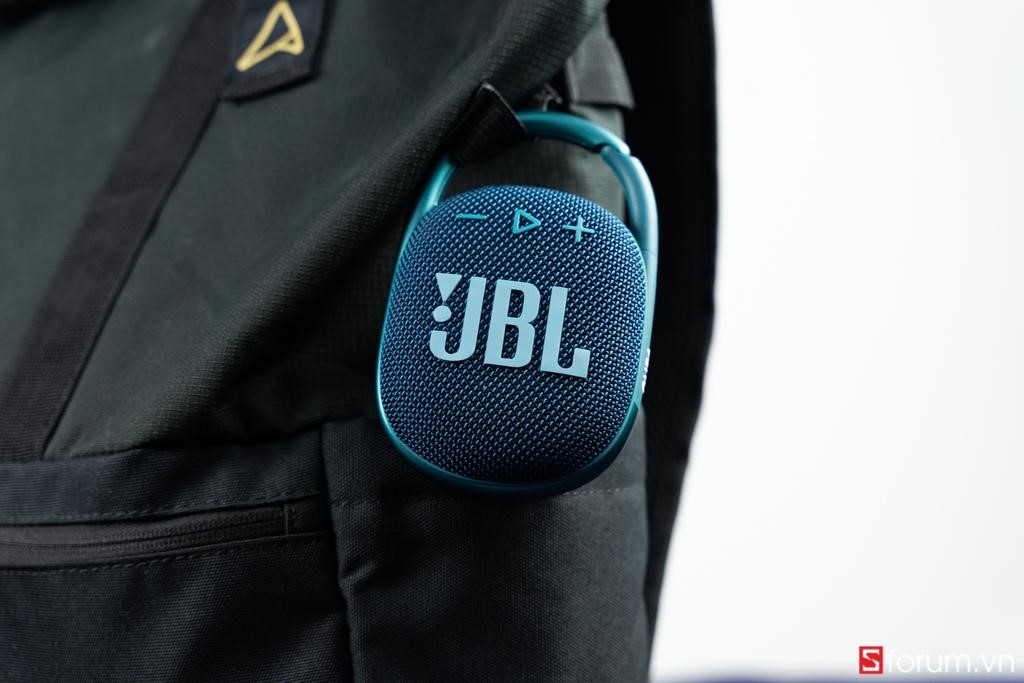 Both JBL Clip 4 and JBL Go 3 speakers have IP67 waterproof technology. From there, the speaker can respond well to all entertainment activities, including activities with water. The speaker can withstand water pressure up to a depth of 1m for 30 minutes. They are designed with durable materials that are durable for long-term use.
Read more: JBL Flip 5 Vs Flip 6
Connectivity
JBL Clip 4 and JBL Go 3 speakers have Bluetooth 5.1, compatible with several operating systems. In addition, the speaker also has a 3.5 mm socket that can help connect to mobile devices when Bluetooth cannot work. Thanks to their flexible connectivity, both speakers are more user-friendly and compatible with a wide range of devices.
Design
The two Bluetooth speaker models JBL Clip 4 and JBL Go 3 are both made from environmentally friendly materials. Specifically the body of these two speaker models uses 90% PCR (Post-Consumer Recycled) recycled plastic. , the mesh part of this duo is also made of 100% recycled fabric, and the packaging of these two products is also made from FSC-certified paper and printed with ecological soy ink to ensure the JBL-making process. Clip 4 Eco and JBL Go 3 Eco will be extremely environmentally friendly.
There are many different points regarding the design of JBL Clip 4 vs Go 3 speakers. In general, both JBL Clip 4 and JBL Go 3 speakers are equipped with an extremely compact and convenient design for convenient travel. The JBL Clip 4 speaker also has a super durable and convenient metal hook. The JBL Go 3 speaker has a sturdy rubber grip and is lighter.
Price
There is a big difference in the price of the two speakers. It can be seen that the JBL Clip 4 speaker is much higher than the JBL Go 3. Depending on your budget and needs, you can choose the speaker that is right for you. If you prioritize using the speaker for longer than 10 hours, choosing the JBL Clip 4 is the most optimal.
| | | |
| --- | --- | --- |
| Country | JBL Clip 4 | JBL Go 3 |
| United States | $49.95 | $39.95 |
| Vietnam | 1,590,000 VND | 990.000 VND |
JBL Go 3 Vs Clip 4: Which Is The Best?
The JBL Go 3 is a wonderful choice if you're searching for a compact, lightweight speaker with a long battery life. The JBL Clip 4 is a good option if you want a speaker with a stronger sound output and the capacity to connect it to your possessions. Your specific requirements and preferences will determine the most appropriate speaker for you.
Read more: JBL Clip 3 Vs Clip 4
Conclusion
fter our thorough examination of the JBL Go 3 and Clip 4, we believe that each speaker stands out for its unique strengths, catering to different user preferences. The JBL Go 3, with its compact size and robust sound, is an excellent choice for those seeking a straightforward, portable speaker that delivers quality audio without complexity.
On the other hand, the Clip 4, with its distinctive carabiner design, offers enhanced portability and durability, making it a superior choice for outdoor enthusiasts and those constantly on the move. Ultimately, your decision should be guided by your specific needs: whether it's the simplicity and sound quality of the Go 3 or the rugged, adventure-ready design of the Clip 4. Both speakers uphold JBL's reputation for quality and performance, ensuring that whichever you choose, you're investing in a reliable, high-quality audio experience.