Bose Soundbar 700 vs 900 are two great soundbars that offer an immersive audio experience that will elevate your movie nights and music sessions to new heights. Whether you want aesthetics, powerful sound, or versatile connectivity, we'll help you determine which of these impressive soundbars is the perfect fit for your audio needs.
What Are The Differences Between Bose Soundbar 700 Vs 900?
Specifications
| | | |
| --- | --- | --- |
| Features | Bose Soundbar 700 | Bose Soundbar 900 |
| Number of channels | 3.0 | 5.0.2 |
| Frequency range | 20 – 20000Hz | 16 – 20000Hz |
| Shape | Rectangular | Cylindrical |
| Surround-Formats | Dolby Digital, DTSSurround Speakers | Dolby Digital Plus, Dolby TrueHD, Dolby Atmos, Surround Speakers |
| Connections | HDMI ARC, Toslink, USB IN | HDMI eARC, Optical Connections |
| Dimensions | 5,84 x 97,79 x 10,92 cm | 5,81 x 104,5 x 10,7 cm |
| Numbers of microphones | 7 | 9 |
| Number of tweeters | 2 | 4 |
| Weight | 4,76 kg | 5,75 kg |
Design
The Bose Soundbar 700 has a clean and minimalist appearance, with a full glass top that adds a touch of elegance to its overall design. The 900 model has additional metal grilles on the top, specifically for the up-firing speakers, providing a unique visual element.
In terms of dimensions, the 700 version is slightly narrower and shorter than the 900 series, making it a suitable choice for compact spaces or TVs with a 2-leg stand.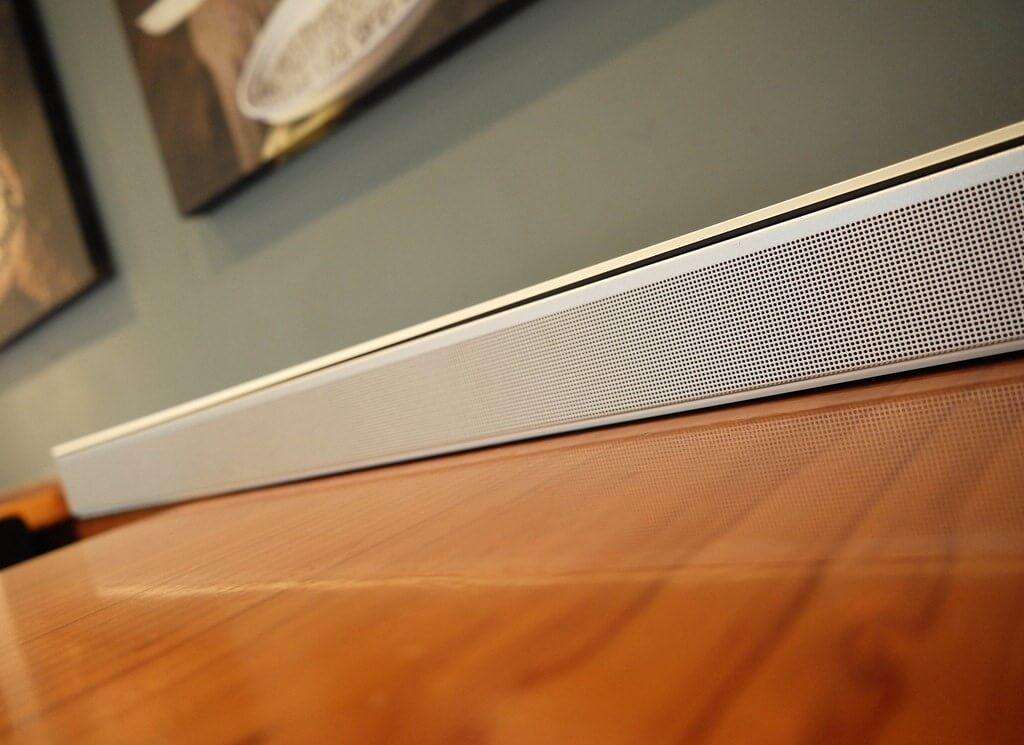 Sound
The Soundbar 700 has a 3.0-channel sound system with left, center, and right audio channels. It delivers excellent center channel performance, resulting in clear and accurate dialogue reproduction. The midrange is well-balanced, allowing for clear and present vocals.
The Soundbar 900 has a superior 5.0.2-channel sound system with nine built-in speakers, including two facing the ceiling for vertical sound.
This type of speaker setup is great for Dolby Atmos content, creating an immersive experience with sounds above you. It also uses PhaseGuide technology to project sound in multiple directions, making it feel like it comes from areas without speakers.
Connectivity
Bose Soundbar 700
ARC connector, allowing you to connect it to your TV.
An "ADAPTiQ" port for the supplied headphones helps calibrate the room. There is an "IR" input for connecting an infrared emitter so that the Soundbar can retransmit its infrared signal.
A "BASS" port helps connect an external subwoofer and a "DATA" port for firmware updates. It supports Bluetooth and Wi-Fi connectivity and compatibility with Apple AirPlay and Chromecast.
A built-in Alexa and Google Assistant, with a microphone mute button for privacy.
Read more: Soundbar Vs Speakers
Bose Soundbar 900
In addition to the same features as the Bose soundbar 700, the 900 has additional features such as:
An HDMI eARC (Enhanced Audio Return Channel) allows uncompressed Dolby Atmos playback when connected to a TV with HDMI eARC or ARC connections using a high-speed HDMI cable.
Wireless streaming capabilities include compatibility with Spotify Connect.
Remote Control
The Bose Soundbar 700 has a larger and more user-friendly remote control than the Bose Soundbar 900.
The remote of the 700 models is designed to be simpler and easier to use, providing full control over your soundbar. It has a high-quality finish and backlit keys for convenient operation.
Meanwhile, the remote control of the 900 series is smaller and may appear cheaper in comparison. It does not offer the same level of control as the 700 model's remote.
To access all the functions and settings of the 900 series, you will need to use the Bose Music App on your mobile device, adding an extra step to the control process.
Read more: Bose Vs JBL Speaker
Which One Is Better? Bose Soundbar 700 Or 900?
You can choose the best one that suits you depending on your needs and preferences.
The Bose Soundbar 700 delivers great sound quality, a wide sound range and can create an immersive experience. It also includes an easy-to-use remote control and provides various connectivity choices.
Thus, if you prioritize exceptional dialogue clarity and a wider soundstage, the 700 models may be a better choice.
However, if you prefer a more immersive and cinematic audio experience, especially for Dolby Atmos content, Bose Soundbar 900 is a better option. Still, it may have some limitations in terms of remote control functionality.
How To Use Bose Soundbar 700 And 900?
Bose Soundbar 700
Step 1: Connect the remote
Ensure the remote control is paired with the soundbar by following the instructions in the user manual.
Step 2: Power on the soundbar and TV
Connect the power cord of the soundbar to a power outlet. Press the power button on the soundbar or use the remote to turn it on. Press the "TV" button on the remote to turn on your TV.
Step 3: Change channels and control playback
Use the "Play/Pause" button on the remote to change or control media playback. Press it once to pause or resume playback.
Step 4: Mute the sound
Press the "Mute" button on the remote to mute the sound temporarily. Press it again to unmute and restore the audio.
Step 5: Adjust the volume
To increase or decrease the soundbar's volume, use the dedicated "Volume" buttons on the remote. Press the "+" button to increase the volume and the "-" button to decrease it.
Bose Soundbar 900
Install the Bose Music app on your mobile device and turn on Bluetooth.
Connect the soundbar to power and ensure the light bar glows amber.
Open the Bose Music app, sign in or create an account, and grant the necessary permissions.
Select "Smart Speakers, Soundbars & Amps" and let the app search for compatible products.
Choose your wireless network, enter the password, and connect.
Name your soundbar and select sharing preferences.
Connect the soundbar to your TV using an HDMI cable.
Optionally, connect accessory speakers.
Optimize sound quality with ADAPTiQ system setup.
Add and set up a voice assistant if desired.
Read more: Marshall Vs Bose Speaker
Conclusion
The Bose Soundbar 700 vs 900 provides an excellent audio experience. The 700 focuses on clear dialogue and a stylish design, while the 900 offers advanced cinematic features. The best choice depends on personal preferences.
FAQs
Can I make or receive calls from the Bose Soundbar 900?
Yes, you can make and receive calls from the Bose Soundbar 900. It is equipped with built-in voice assistants like Alexa, which allows you to initiate calls using voice commands.
How to connect my Soundbar 900 to the TV?
You must identify your TV's audio output ports (HDMI ARC, HDMI eARC, or optical audio). Next, you use the HDMI cable to connect the Soundbar's HDMI ARC or eARC port to the corresponding port on your TV. Next step, you turn on your TV and Soundbar 900. Select the appropriate audio output option in your TV's audio settings (HDMI ARC, HDMI eARC, or optical audio). Finally, you adjust the volume using the Soundbar's remote control or the buttons on the soundbar itself.
What are better alternatives to Bose Soundbar 700 and 900?
The Samsung HW-Q930B is a popular alternative to the Bose Soundbar 700 and 900. It offers a 9.1.2 channel array, providing a more immersive audio experience. The HW-Q930B also has wireless rear speakers for a true surround sound setup. It also features Samsung's Acoustic Beam technology, which helps create a wider soundstage.