JBL Go speakers are compact and easy to carry with outstanding sound quality. If you're looking for a small portable Bluetooth speaker for on-the-go listening that's easy and quick to pair with other devices, this speaker is worth the investment. Let's learn the difference between JBL Go 2 and Go 3 speakers.
Table Of Comparison: Key Differences Between JBL Go 2 Vs Go 3
If you are still wondering what the difference between JBL Go 2 Vs Go 3 is, you can see the following basic information table:
| | | |
| --- | --- | --- |
| Feature | JBL Go 2 | JBL Go 3 |
| Image | | |
| Dimensions | 86.3 x 48.3 x 41.1 mm | 81.7 x 47.3 x 44.9 mm |
| Weight | 198 g | 203 g |
| Battery life | 5 hours | 5 hours |
| Bluetooth version | 4.2 | 5.1 |
| IPX rating | IPX7 | IP67 |
| Audio output power | 3.1 W RMS | 4.2 W RMS |
| Frequency response | 180 Hz – 20 kHz | 110 Hz – 20 kHz |
| Drivers | 1 x 40 mm driver | 1 x 40 mm driver |
| Price | ~ $39.95 | ~ $49.95 |
The two speakers are very similar in terms of their basic features. The main differences are that the Go 3 has a higher IP rating, making it waterproof and dust resistant, and it has a newer Bluetooth version. The Go 3 also has a slightly higher audio output power, but this difference is insignificant.
JBL Go 2 Vs Go 3: Compared In Outstanding Detail
For more detailed information about the difference between the two JBL JBL Go 2 vs Go 3 speakers
Sound quality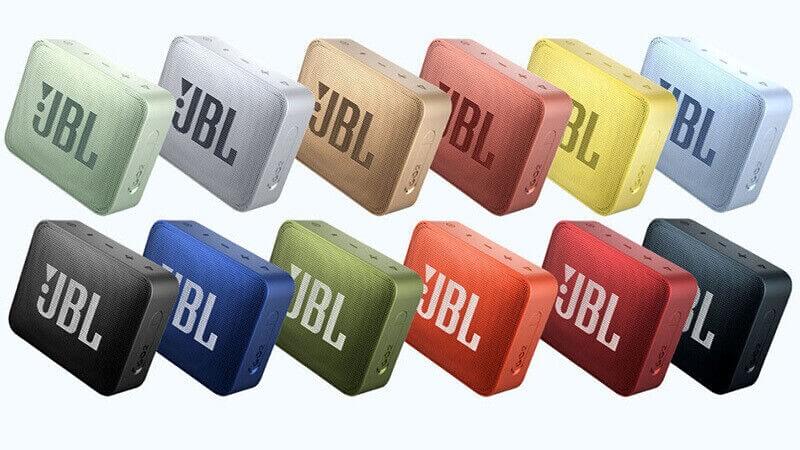 Despite its small size, the JBL GO 2 speaker produces quite good tunes, loud and unbroken thanks to 3.1W of power, sensitivity: 80dB, frequency range: 180Hz – 20kHz. The sound quality from GO 2 is lively with clear sound, the mid-range remains the same, and the bass is warm and powerful.
Inside the JBL GO 3, there is only one 1.5-inch driver (43 x 47 mm), but it has an output power of 4.1W, a frequency range of 110Hz – 20kHz, and a sensitivity of <85 dB. GO 3. Perfectly inherits the advantages of sound from its predecessor. JBL Pro Sound technology also helps GO 3 have a more robust sound quality with deep bass and more detailed sound than the GO 2 version.
JBL GO 3's sound reproduction is perfect, the bass – Treble and Mid bands are clearly separated and not stuck together, almost not inferior to any speaker model of this size. more significant in the market.
Overall, both speakers have excellent sound quality for their compact size.
Read more: JBL Boombox 2 Vs Boombox 3
Battery life
There is little difference regarding the battery of these two speaker lines. Both speakers give you up to 5 hours of continuous playback on a full charge. On average, charging takes about 2 and a half hours when equipped with a high-end 750mAh Li-ion battery. Charging time is short, so you can quickly use the speaker without worrying about interruption.
Durability and waterproof
JBL GO 2 is already an IPX7 waterproof speaker. You can immerse the speaker in water at a depth of 1m for 3 minutes and still ensure the speaker quality is not affected. The durability and performance of GO 2 are also appreciated.
JBL GO 3 is upgraded to IP67 water and dust resistance. Rain or shine, your GO 3 plays excellent music. You do not have to worry about this speaker being soaked in water or damaged by water immersion. When traveling or anywhere, the speaker still meets sound quality needs and is resistant to dust and water.
Both speakers are also said to be impact resistant. However, because of the compact design, you should not manage the drive so that the drive is bumped and avoids risks. Also, none of the speakers float in water, so you need to be careful not to drop them in a pool or lake.
Connectivity
The JBL Go 3 has Bluetooth 4.2, a standard Bluetooth version that provides up to 10 meters of reliable wireless connectivity. The JBL Go 3 also has a newer Bluetooth 5.1 version, , which brings new Bluetooth technology with better connectivity.
Both speakers also have an AUX input, which allows you to connect them to a non-Bluetooth device using a 3.5mm audio cable. The JBL Go 3 has an additional NFC feature, which allows you to pair it with your device by simply tapping them together.
Overall, the JBL Go 3 has slightly better connectivity features than the JBL Go 2. However, both speakers are still competent and should be able to meet your needs.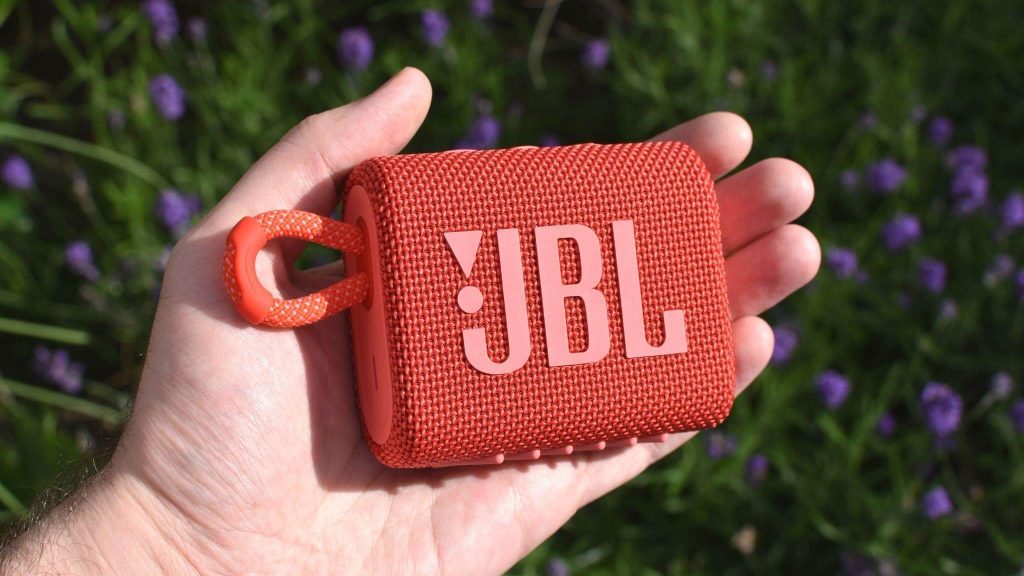 Design
Designed to be compact enough to fit in the palm of your hand, both speakers give you an amazingly portable feel. Besides, the speaker is designed to be carried or hung up. The product is made of high-quality plastic, and the outer layer is a strong stretch layer.
The speaker surface is covered with a rubber layer with better elasticity and impact resistance. The back and bottom edge of the GO 3 have raised rubber parts that help the speaker stand firm and stick better to the speaker surface than the GO 2. So even if you play exciting music at a volume higher than 70, the speaker will not move, wobble or fall when the bass is very tight.
Speakers are designed with many colors, suitable for active young people, and you can easily choose a color you love.
Price
The JBL Go 3 is more expensive than the JBL Go 2. This is likely due to its higher IP rating, newer Bluetooth version, and NFC feature. The price range for JBL Go 3 is around $39.95. The price range for JBL Go 2 is around $49.95.
JBL Xtreme 2 Vs Xtreme 3: Which Is The Best?
The best speaker for you will depend on your individual needs and budget. If you want a budget-friendly speaker with good sound quality, then the JBL Go 2 is a good option. If you want a speaker with better durability and connectivity, then the JBL Go 3 is the better choice.
Read more: JBL Clip 3 Vs Clip 4
Conclusion
Which speaker model to choose depends on your personal preferences and usage needs. JBL GO 3 and JBL GO 2 both have a stylish, compact, lightweight appearance with sturdy, durable materials. Its compact design makes it convenient to hold and carry anywhere without being too bulky. At the same time, the speaker still meets the demand for sound quality when possessing excellent sound quality, capable of providing ecstatic melodies, and stirring up fun and picnics.