The JBL brand is known for its outstanding sound quality and is used in various fields, from professional audio to home audio. Among the speakers that have been released is the famous Boombox line. Since there are multiple versions available, read the comparison and review below to find the right speaker for you.
Table Of Comparison: Key Differences Between JBL Boombox 2 vs Boombox 3
If you are still wondering what the difference between JBL Boombox 3 and Boombox 2 is, you can see the following basic information table:
| | | |
| --- | --- | --- |
| Feature | JBL Boombox 2 | JBL Boombox 3 |
| Image | | |
| Dimensions | 280 x 432 x 120 mm | 280 x 427 x 119 mm |
| Battery life | 24 hours | 28 hours |
| Bluetooth version | 4.2 | 5.1 |
| IPX rating | IPX7 | IP67 |
| Audio output power | 2 x 40 W | 2 x 42 W |
| Frequency response | 50 Hz – 20 kHz | 40 Hz – 20 kHz |
| Drivers | 2 x 70 mm woofers, 2 x 20 mm tweeters | 2 x 57.5 mm woofers, 2 x 20 mm tweeters |
| Microphone | Yes | No |
| Voice assistant | Yes | No |
| Price | ~ $399 | ~ $499 |
JBL Boombox 2 Vs Boombox 3: Compared In Outstanding Detail
For more detailed information about the difference between two JBL Boombox 2 and Boombox 3 speakers, you can read right here:
Sound quality
The JBL Boombox 3 has a new speaker system with a potent subwoofer, mid-range drivers, and tweeters for excellent sound. The JBL Boombox 2 Bluetooth speaker has two 10.16cm woofers in the front. These woofers make great bass sounds. 2 tweeters with a diameter of 2 cm are arranged at the end of the speaker column to help reproduce mids and highs most effectively.
Both speakers have a good sound quality and bring good sound effects to users. The JBL Boombox 3 has better bass, with deep and substantial sounds. The professional evaluation shows that JBL Boombox 3 has more transparent highs and trebles than Boombox 2. The highs are smoother and less concave, and the mids have no distortion. Higher volume level. The speaker will not disappoint with its superb music experience thanks to many audio enhancements.
Battery life
JBL Boombox 3 and JBL Boombox 2 both have a battery life of more than 24 hours and a battery of more than 20000mah, for a charging time of only 6.5 hours.
In addition, the speaker also has a built-in charging port that allows you to charge your mobile device fully. You can enjoy your music without worrying about interruptions midway.
Durability and waterproof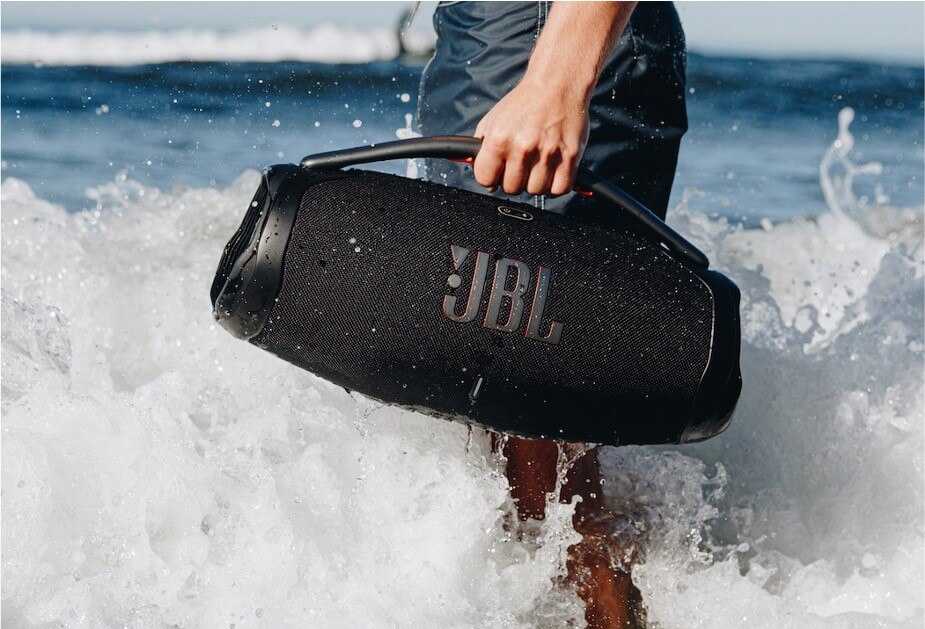 Both speakers have IPX7 water resistance, so you don't have to worry about water damage.
Both speakers are also made from durable materials. The JBL Boombox 2 has a fabric exterior with a rubberized bottom. The JBL Boombox 3 also has a fabric exterior with a rubberized base and a metal grille on the front. The metal grille helps to protect the speaker from scratches and dents. Regarding durability, the JBL Boombox 3 is a slightly better speaker. It has a higher IP rating and is made from more durable materials. However, the JBL Boombox 2 is still a very durable speaker and is a good option if you want a more affordable option.
Read more: JBL Charge 4 Vs Charge 5
Connectivity
JBL has improved the connectivity of the JBL boombox 3 Bluetooth 5.3. It is now smoother and can connect with two devices simultaneously. This allows us to enjoy JBL Original Pro sound without interruptions. JBL Boombox 2 is only for 5.1 Bluetooth connection
Both speakers have a built-in JBL Party function. It connects many JBL technology devices to increase power and make the music more vibrant. The back of JBL Boombox 3 and JBL Boombox 2 are equipped with Aux ports that can connect to laptops, pc,…
Design
2 JBL Boombox 3 and JBL Boombox 2 speaker models have a similar design. However, JBL Boombox 3 is upgraded compared to the previous JBL Boombox 2, looking more polished and modern with a beautiful metal shell. Keeping the standard of attractive design, muscular style, and attention to detail, the metal handle will meet your usage needs when using the speaker anywhere.
When comparing both JBL Boombox 3 and Boombox 2 side by side. JBL Boombox 3 has the upper hand with a much sleeker look, beautifully curved corners, and a rubber base to keep the speaker in place. Both speakers have passive bass radiators on the side that deliver big bass for a great audio experience.
Price
Regarding the price of the two products, the price is suitable and the same. The price range for JBL boombox 2 ~ $399. The cost of boombox 3 ~ $499. Besides, the color difference also makes the price change depending on your chosen color.
JBL Xtreme 2 Vs Xtreme 3: Which Is The Best?
The best speaker for you will depend on your personal needs and preferences. If you want the best sound quality and features, JBL Xtreme 3 is the best choice. If you want a louder sound and deeper bass, the JBL Boombox 3 is worth the investment. We're confident it produces a more transparent sound than the JBL Boombox 2, even without a dedicated woofer.
However, if you want a more affordable speaker, the JBL Xtreme 2 is still a good choice. Both speakers are similar in aesthetics and design, water-efficient, and suitable for outdoor use.
Read more: JBL Xtreme 2 Vs Xtreme 3
Conclusion
After the above review and comparison between JBL Boombox 3 vs Boombox 2 Speakers, you must have made your own choice. Both products are similar in design to technology. The sound quality is up to your personal preferences.