The released JBL Boombox 3 series has shaken the audio market. This is JBL's largest portable speaker line with many design improvements and a new loudspeaker system that promises to bring an explosive sound quality, bringing unforgettable experiences to users. Here is a detailed review of the sound, design, and specifications. Read on to see how this speaker delivers sound quality.
Overview
JBL Boombox 3 is a portable Bluetooth speaker known for its powerful sound and long battery life. It features a rugged design that is water and dust resistant, perfect for outdoor use. The JBL Boombox 3 is great for a powerful portable Bluetooth speaker. It's perfect for parties, outdoor activities, or just listening to music at home. Its companion app includes a graphic equalizer for audio customization. At maximum volume, it compresses lightly and outputs loud, so you can play your favorite tunes without sacrificing sound quality.
JBL Boombox 3
Rating 9.3/10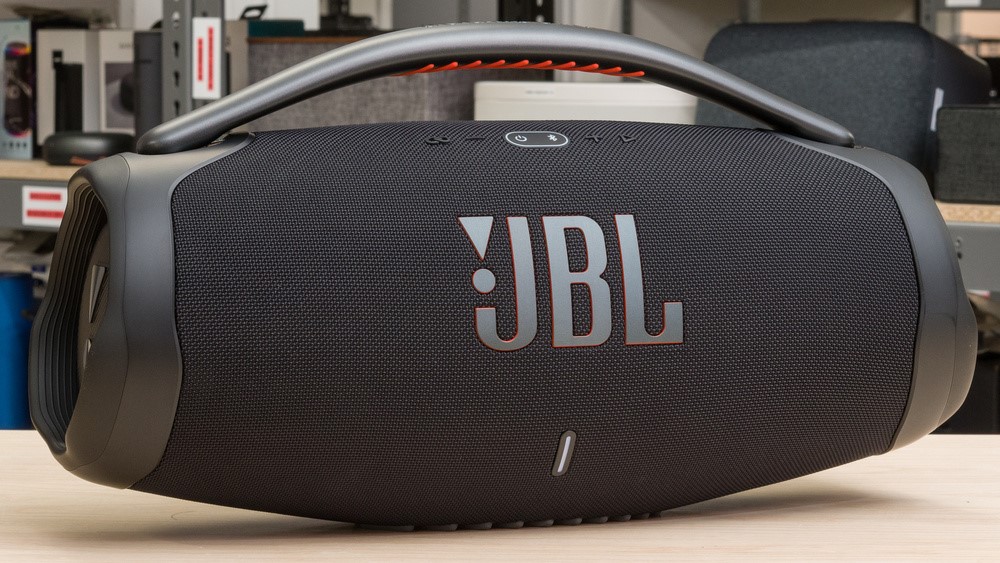 Pros
Good bass depth and crisp highs
App includes adjustable EQ
Gets loud with little compression at max volume.
Cons
Narrow and directional soundstage.
Heavy
Expensive
Key specification
Dimensions: 19.1 x 10.1 x 7.9 inches
Weight: 13.13 pounds (5.95 kg)
Battery Type: Lithium-ion Polymer battery
Battery Life: Up to 24 hours
Bluetooth Version: Bluetooth 5.1
Frequency Response: 50Hz – 20kHz
Sound Output: 80 watts RMS (woofer) + 30 watts RMS (tweeter) for a total of 110 watts RMS
Design and size
JBL Boombox 3 has the same cylindrical design as its predecessor. This is considered the "signature" design of the Boombox series, which is loved and chosen by many users. The handle is upgraded from aluminum instead of plastic like the previous version. Besides, it is also covered with an orange rubber layer to increase aesthetics and give the best grip. Surrounding the speaker is still a black fabric e-stretch for good resistance to force. However, the logo on the front has been changed to a larger size and more style.
In terms of size, there are not many changes compared to the previous version. However, the weight of Boombox 3 has increased from 5.9 to 6.7kg compared to the old generation. We can feel it when holding and moving it. This change is because Boombox 3 is equipped with a subwoofer driver that is not available in Boombox 2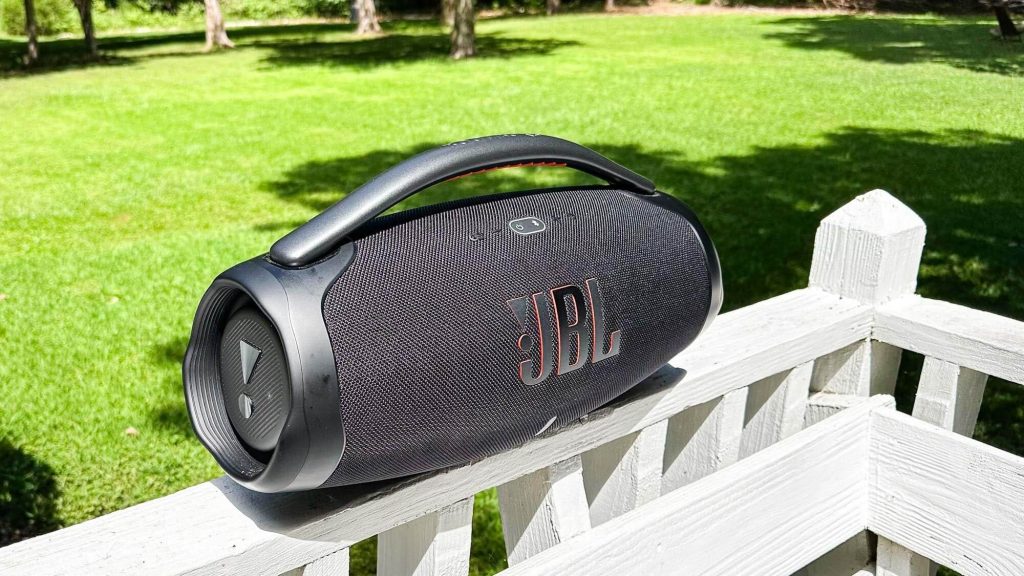 Read more: Sony Ht S350 Review
Features
The JBL Portable app (available for Android and iOS) displays the remaining battery life of the speaker and allows you to update the firmware. Depending on your listening preferences, you can customize the EQ with three bands of Bass, Mid, and Treble.
This is a significant improvement on this speaker line because the previous model didn't have a companion app. Usage is also quite simple, with just five positions for the Bass, Mid, and Treble bands, but it's better than nothing and still allows for fine-tuning.
Otherwise, a button toggles feedback tones, a user guide, a software update section, and a PartyBoost option. In PartyBoost mode, you can link the Boombox 3 to other JBL speakers.
Sound quality
On the 3rd generation of Boombox speakers, it has been upgraded with a completely new 3-way speaker system. Includes one very large woofer driver of 18.9 x 11.4 cm, 2 8.1 cm midrange drivers, and 2 2 cm tweeters.
Therefore, Boombox 3 has up to 5 drivers that play separately in 3 bands of bass, mid and high, delivering great sound in any environment with greater sensitivity in sound, increasing clarity while reducing distortion. Sound with terrible bass and a rich sound spectrum. JBL Boombox 3 speakers will be a great and effective solution, the sound is impressive and vibrant.
Besides, with a significant power level of 180W when plugged in and 136W when using only the battery, combined with JBL Original Pro technology to deliver high-quality sound at a more professional level.
Connectivity
Equipped with the latest version of Bluetooth technology V5.3, JBL Boombox 3 speakers are always ready to connect wirelessly to tablet devices, or smartphones. The speaker can remember up to 9 connected devices. When one device plays, the other will pause for you, making it easy to play music according to your preferences. At the same time, with this advanced connection, your signal is always stable and fast, allowing you to enjoy music without worrying about interruptions or sudden disconnections.
Read more: Jbl Partybox 100 Review
Battery
By owning a 10,000 mAh Lithium-ion battery, the JBL Boombox 3 speaker can play music for up to 24 hours on a full charge (may fluctuate depending on the volume level and music content). It will take about 6.5 hours to fully power it through the charging cable.
This wireless speaker acts as a power bank by charging external devices via USB. So don't worry if your phone or tablet is about to run out of power. A single speaker charge can provide up to 7-8 hours of continuous music playback in parallel charging devices.
Price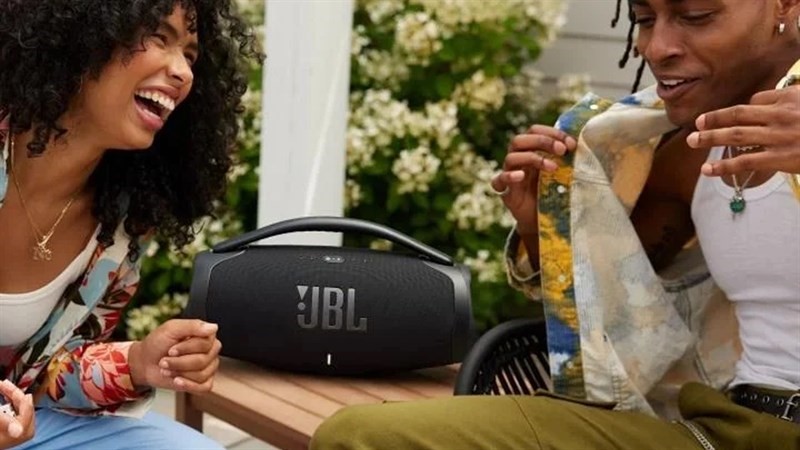 The JBL Boombox 3 is currently priced at $499.95 on the JBL website. However, the price may vary depending on the retailer. If you are looking for a cheaper option, you can consider the JBL Boombox 2. It is a previous model of the JBL Boombox 3, but it still has a powerful sound and long battery life. The lower version is the JBL Boombox 2 is currently priced at $349.95 on the JBL website.
Durability
The JBL Boombox 3 is also made with a durable fabric and rubber housing that protects it from scratches and bumps. It also has a sturdy handle that makes it easy to carry around.
Overall, the JBL Boombox 3 is a durable speaker that can withstand the elements. It is an excellent option for anyone who wants a portable speaker to take with them anywhere, even to the beach or the pool.
The JBL Boombox 3 speaker is IP67 rated, which means it's dustproof and safe to be exposed to water at a depth of 1m for about 30 minutes. This is a worthwhile upgrade over Boombox 2 because the IPX7 standard is not dustproof.
Should I buy JBL Boombox 3?
The JBL Boombox 3 is renowned for producing strong sound and having rich bass. It can be a fantastic option if you value powerful and fascinating music quality, especially for outdoor events or parties. The JBL Boombox 3 should be purchased according on your needs and financial situation. The JBL Boombox 3 is a fantastic option if you're searching for a robust and portable Bluetooth speaker with a long battery life.
Read more: JBL Go 2 Review
Conclusion
The above article is a detailed summary of the JBL Boombox 3 review. When reading this article, you have enough information to decide whether to choose a speaker. Although the price is a bit high compared to the product lines, compared to the remarkable quality that the speakers bring, it is worth the investment.