JBL Bluetooth speakers have always been the top choice of customers, affirming a strong position in the audio market. So if you are looking for an outdoor speaker for a picnic or a pool party, you must pay attention to the JBL Partybox 100 speaker line.
The JBL Partybox 100 speaker, it will surprise you because of its ability to respond to sound in large spaces with outstanding sound quality. Check out the detailed review below.
Overview
The JBL PartyBox 100 Bluetooth speaker has the design of a portable speaker. The impressive point is that the manufacturer's two speaker rims are decorated with light by the manufacturer, creating a vividness that stimulates users to want to blend in with the music being played.
The color of the light emitted is also not simple. There are many colors shown when using the speaker. In terms of sound quality, it is well-represented with powerful bass. Meet your outdoor entertainment needs.
JBL Partybox 100
Rating 9.2/10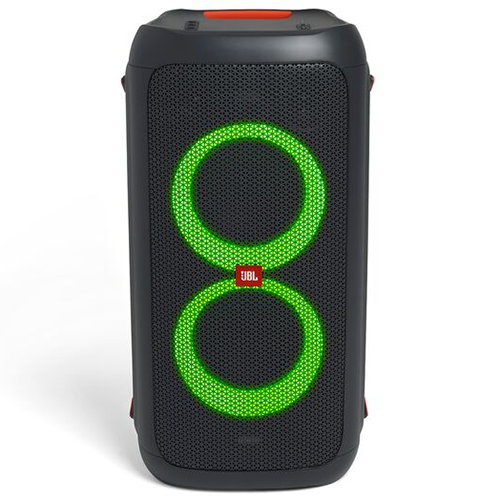 Pros
Powerful, dynamic, energetic and detailed sound
Fantastic for use on the move
12-hour battery life
Light show included
Cons
Not dust or water resistant.
Not very portable
Battery life
No remote
Key Specification
Dimensions: 290mm x 288mm x 551mm
Weight: 9.7 kg (21.4 lbs)
Battery Type: The JBL PartyBox 100 is not battery-powered
Bluetooth Version: Bluetooth 4.2
Frequency Response: 45Hz – 18kHz
Sound Output: 160 watts RMS
Speaker types: 2 x 5.25cm Woofer Drivers và 2 x 2.25cm Tweeter Drivers
Design and size
Exactly the JBL Partybox 110 Bluetooth speaker is an upgraded version of the JBL Partybox 100 speaker design with a horizontal border overflow system (like a borderless TV model) combined with a new woofer led light system that feels like it is coordinated. Put together very well. Designed with more led space and according to the manufacturer, it will be much more beautiful than the old model.
The front is a speaker system with a speaker rim equipped with an LED system that lights up when playing music to help users have a vibrant and brilliant space. Above is the system of adjustment buttons, volume up and down buttons, LED adjustment buttons, and battery indicator. In addition, 4 horizontal support rubber ears of the JBL Partybox 110 speaker version are also designed with a floating orange color superior to the 100 models. But users seem to prefer the design of the 100 models because of its neatness.
Sound quality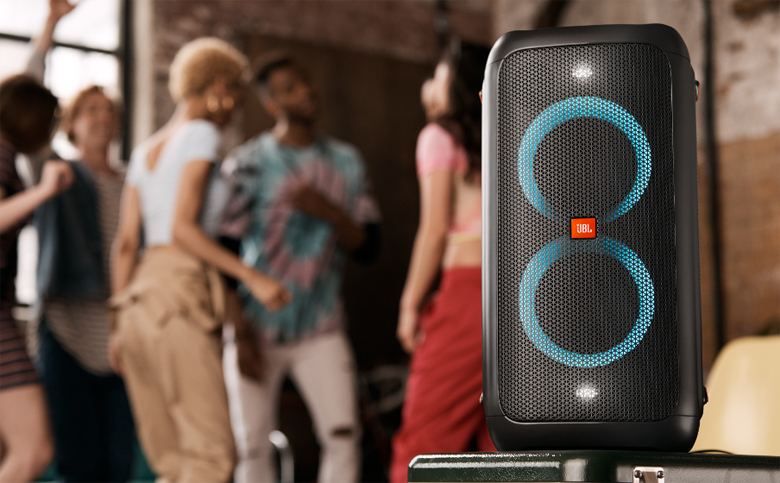 JBL Partybox 100 Bluetooth speaker is designed with 5 speakers including 2 bass speakers with a diameter of 13.3 cm to reproduce deep, detailed bass. When low, it is still clear and true. The strength of JBL Party Box has always been electronic music, EDM, and vinahouse,… just like the name JBL has given to this product line.
For ballad music, the speaker still performs exceptionally well with the ability to honor the singer's voice, hear the instrument clearly, but not be overwhelmed by the bass. Thanks to being equipped with JBL Orginal Pro Sound sound technology combined with a capacity of 160W, the Party Box 110 produces good, solid sound quality for a better listening experience than the Party Box 100.
However, JBL still does not let you directly alter the EQ on their models. However, I don't mind that because the Partybox sounds good at level 1 of the bass boost.
Read more: Jbl Go 2 Review
Connectivity
The JBL Partybox 100 speaker uses a 4.2 wireless connection. This Bluetooth quality upgrade brings many benefits. The most understandable is that it perfectly optimizes the ability to stream high-quality music files with a distance of about 9 meters from the speaker to your smart device.
There are many analog connection ports at the back of the JBL PartyBox 100 Bluetooth Speaker. There are many analog connection ports (RCA and 3.5mm). There is a USB port to play music from USB or charge a mobile device such as a phone, or another tablet. Bluetooth 4.2 connection is stable. Thanks to that, you can combine guitar and microphone to create an outdoor performance.
Battery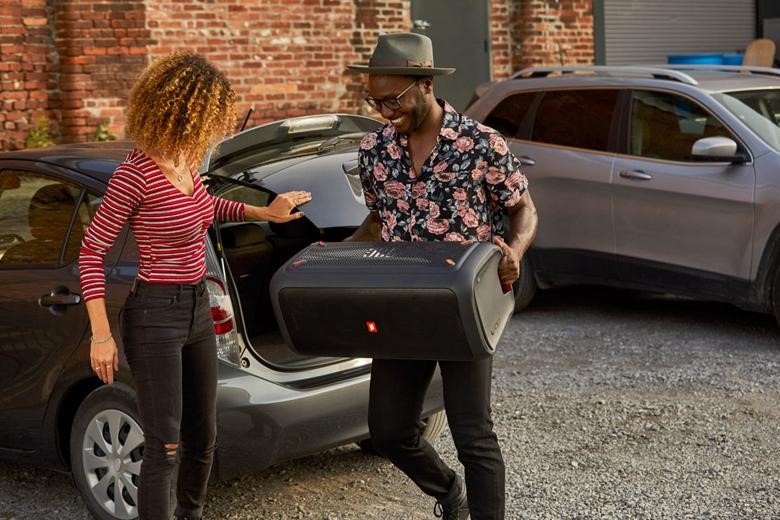 JBL partybox 100A single charge can use 12 hours of continuous listening, and connect to other speakers thanks to TWS technology. JBL Partybox 100 Bluetooth speaker is also equipped with a 2500mAh battery, and the remarkable thing about this battery is that it uses a voltage of up to 14.4V. Use a battery with a voltage of 7.2V.
This makes the Party Box 100 able to continuously play a standard song at 50% volume for up to 12 hours and fully charge in 6.5 hours.
And so you can use it again when the battery runs out. You can get a 100% fast charge in 3.5 hours. Furthermore, the USB output allows users to charge mobile devices.
Read more: Jbl Boombox 3 Review
Price
The JBL PartyBox 100 is currently priced at around $250 to $300. The price may vary depending on the retailer and the availability of the speaker. The JBL PartyBox 100 is a good option for anyone looking for a powerful portable Bluetooth speaker with a long battery life.
Durability
JBL Partybox 110 is equipped with extreme IPX4 water resistance (waterproof), so you can feel secure when bringing the speaker in outdoor parties, pool parties…
In addition, the compact size helps you easily take the JBL Partybox 110 speaker anywhere. It is designed to be sturdy and durable, so it can be used safely for a long time.
Should I buy JBL Partybox 100?
Whether or not you should buy the JBL PartyBox 100 depends on your needs and budget. If you want a powerful and portable Bluetooth speaker with a long battery life and a built-in light show, the JBL PartyBox 100 is a good option. This brand is known for its excellent-sounding speakers with a warranty and good customer care that won't let you down.
Read more: Sony Ht S350 Review
Conclusion
After reading the article about JBL Partybox 100 review, you have decided whether to buy this speaker. The JBL PartyBox 100 is an excellent option for individuals in the market for a high-quality, multipurpose speaker for gatherings of all kinds. Compared to competitors in the market, this is a product worth the investment.