This mid-range soundbar market has become increasingly crowded with products from many different brands. In particular, the Sony HT-S350 soundbar speaker of the Sony brand is also a type of speaker many people are looking for. With superb sound quality and sophisticated design, you won't be disappointed.
Overview
Here are the pros and cons, the technical information of the speaker:
Sony HT S350 
Rating 9.2/10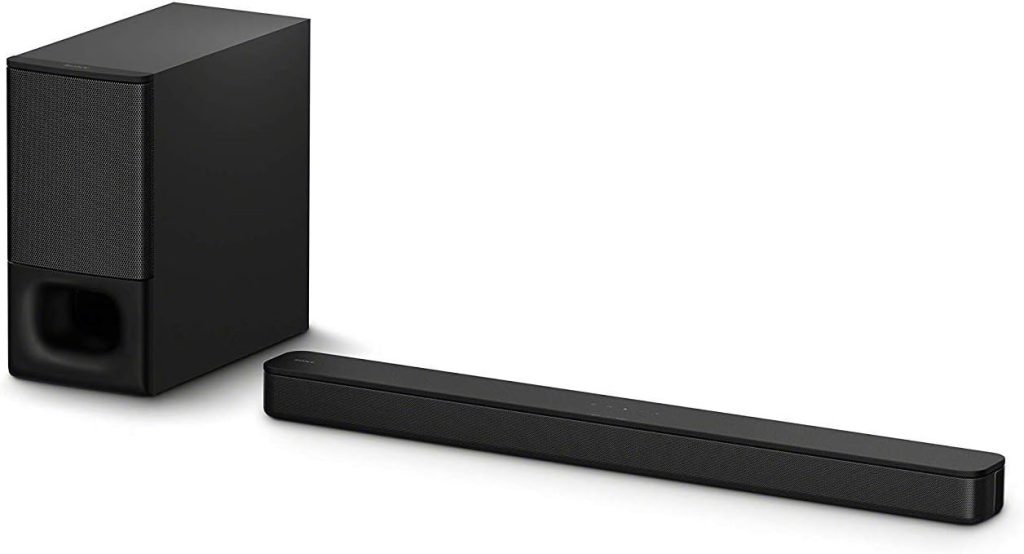 Pros
Dialogue enhancement feature.
Auto-volume mode.
Straightforward to use thanks to the remote control
Good sound with fairly neutral frequency response and powerful sub
Cons
Can't turn off its surround sound mode.
Some of the EQ modes seem redundant
Key Specification
Dimensions: Soundbar (900 mm x 64 mm x 88 mm)
                                 Subwoofer (190 mm x 382 mm x 390 mm)
               Subwoofer 7.8 kg
Bluetooth Version: 5.0
Sound Output: 320W total output power
Speaker types: 2.1 channel soundbar with wireless subwoofer
Design and size
The Sony HT-S350 soundbar is designed to include a soundbar and a subwoofer. The sound bar has a 3-way size of 900 x 64 x 88mm, and the speaker weighs 2.4kg. The subwoofer has 3-way dimensions of 190 x 382 x 390mm, weighing 7.8kg. Sony chose for this speaker system the main black tone to help create an elegant part of the housing space.
The speaker has touch control buttons for power, volume, Bluetooth, and source switching. In addition, the HT-S350 speaker also comes with a remote control shaped like a candy bar. Therefore, users have many more volume control buttons and sound modes such as Music, Game, News, Cinema, Sports, and Standard. However, it's unfortunate that the speaker does not have a way to adjust treble or bass. The speaker also has an HDMI connection port to meet the user's required needs.
Read more: JBL Partybox 100 Review
Features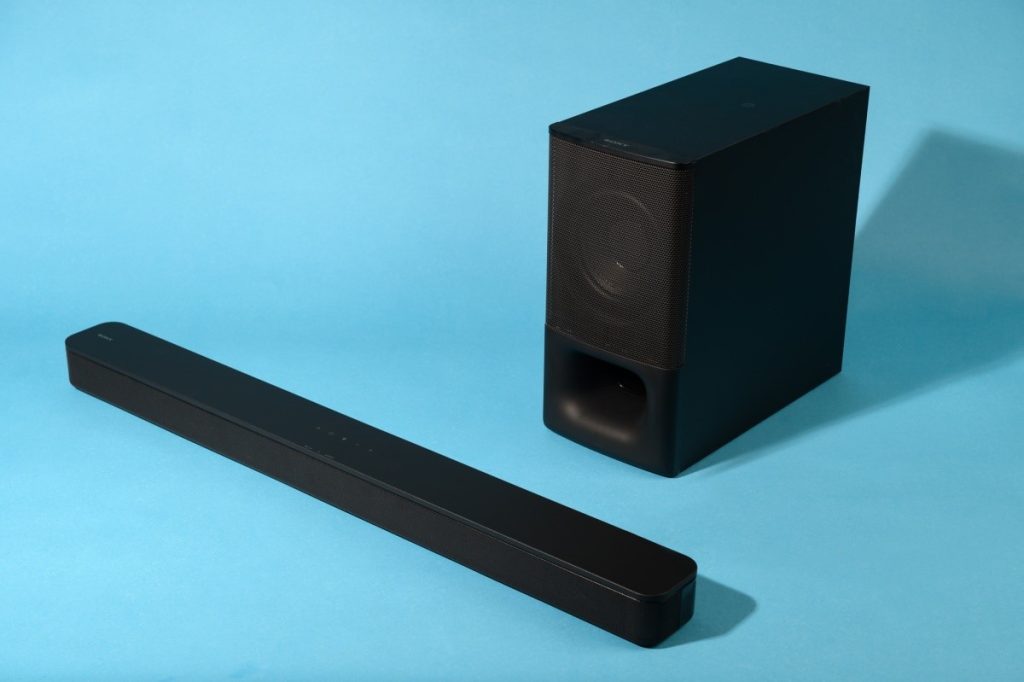 This Sony soundbar is equipped with S-Force PRO Front Surround technology. This technology helps simulate surround sound to spread the sound throughout the room. The power of the speaker is up to 320W for powerful sound. Many products are also selling this audio technology in the same price range. Therefore, users do not need additional rear speakers.
In addition, the speaker offers Sony's S-Force Pro virtual surround engine to expand 2.1 sound. The subwoofer adds a powerful bass boost.
This soundbar is equipped with a remote control, users can turn off the power, increase, or decrease the volume, change sound effects, etc…. without going near the speaker to adjust.
Sound quality
Plug-in speaker for direct use, operating with a capacity of 320W, 2.1-channel system for powerful, resonant sound. Realistic, vivid reproduction of every timbre for a clear listening experience in all content. In addition, the included wireless subwoofer optimizes the connection for deeper bass, delivering richer, more prominent effects.
In particular, the speaker is equipped with ClearAudio + audio fine-tuning technology, a combination of S-Force Front Surround technologies for powerful 360-degree surround sound. ClearPhase balanced reproduction of low, mid, and high frequencies. Besides combining Clear Vocal for clearer dialogue. You can hear music, dialogue, and surround sound effects more clearly and separately.
The speaker's good quality can be considered superior to competitors in the mid-range soundbar segment.
Connectivity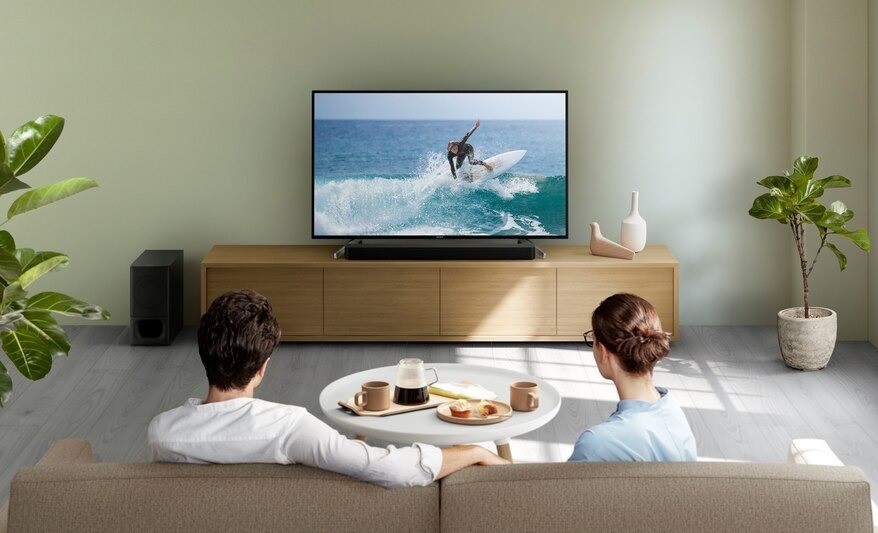 The speaker can connect to Bluetooth 5.0, making connecting with other electronic devices easy. This is a wireless connection that helps the soundbar connect to the phone. However, it does not support wifi connection. This limitation makes it more difficult for users to experience the sound. Sony relies only on a set of strobe lights to determine whether the volume is in the middle, lowest, or highest.
Besides, the speaker also supports standard connections such as HDMI ARC (plug-in TV) or Optical to help you expand the entertainment space more convenient and diverse.
Read more: JBL Boombox 3 Review
Battery
The Sony HT-S350 does not require batteries. It is a wireless soundbar that gets its power from the wall outlet. The only battery-powered part of the system is the remote control, which comes with two AAA batteries.
Price
The Sony HT S350 soundbar system's price could vary depending on the retailer, region, and ongoing promotions or sales. At that time, its price ranged from around $200 to $300 USD. Costs can also fluctuate over time due to various factors such as new product releases, holiday sales, or discontinued models.
Durability
The durability of the Sony HT-S350 soundbar is considered to be good. It is made of sturdy metal housing and has a pleather top that is easy to clean. The soundbar is also relatively lightweight, making it easy to move around. The Sony HT-S350 is a durable soundbar that should last for many years with proper care.
However, there are a few notes on the Sony HT S350. The subwoofer is wireless, making it more susceptible to damage if it is bumped or knocked over. Additionally, the soundbar does not have a built-in dust filter, so it is essential to clean it regularly to prevent dust and dirt from accumulating and causing damage.
Should I buy a Sony HT S350?
The best soundbar for you will depend on your budget and your needs. If you are looking for an affordable way to improve the sound quality of your TV, the Sony HT-S350 is a good option. Consider a more expensive model if you are looking for a soundbar with more features and better sound quality, consider a more expensive model.
Read more: JBL Go 2 Review
Conclusion
The Sony HT S350 is a good soundbar for the price. It is a good option for people looking for an affordable way to improve the sound quality of their TV. If you are looking for a speaker with good sound quality, you cannot ignore this after reading the Sony HT S350 review above.